Gardening is a fun and interactive activity for the whole family to get involved in. Not only will children learn about the science behind nature and how to nurture a living organism, but they'll also get to enjoy the fruits of their labour in the weeks, months and years to come! To get the kids excited about gardening, we've got 10 fun ideas to get them involved. .
1. Set up a raised garden bed
Gardening is a great way to get kids to spend more time outdoors, while also learning some important life lessons at the same time. When you think of gardening, most think of setting up a garden bed. They can be easier to set up and maintain compared to an in-ground garden bed. Raised beds are a great working height for kids and easy to top up with soil, rather than digging into the ground.
You can build raised garden beds from various materials such as steel, wood, brick or plastic. DIY kits are also plentiful on the market, however, you can easily build your own if you choose. Whatever you pick, raised beds are a great way to start if you are new to gardening. We've even got small red and blue beds for our little gardeners, which is a great option if you want to start small. You can easily plant a few herbs, vegetables or fruit to keep children engaged with the process. Planting things that your children will eat is another great way to keep them involved – they will feel a sense of pride and get to enjoy some delicious produce.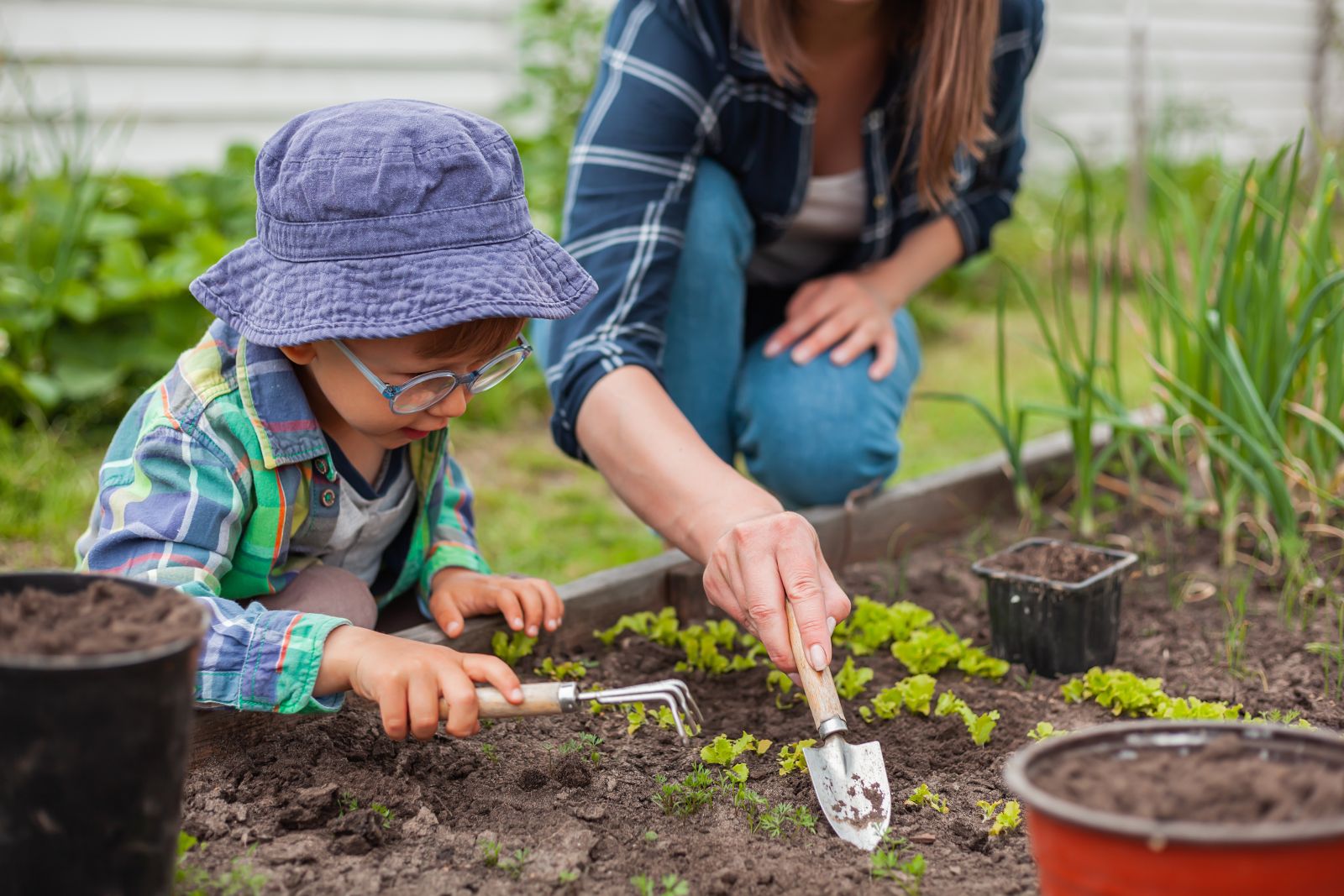 2. Set up an arch
If you've got room in the backyard, setting up an arch across two garden beds is exciting for kids to watch plants climb and grow. A trellis can also work if you are more limited by space. Climbing plants tend to grow pretty fast, so it won't be too long before you start to see the growth.
We recommend planting smaller vegetables that fruit quickly. This will make it easy for kids to pick the fruit when they are ripe, but also limit the waiting time. Tomatoes, baby cucumbers and peas are all great options for beginner gardeners and something that most kids enjoy eating.
3. Build a scarecrow
Do you have pesky birds that come and nibble away at your vegetable garden? Perhaps you need a scarecrow! While scarecrows won't stop all wildlife from getting into your garden, they can be a good deterrent and another fun activity to do with kids.
Start by finding some old materials to give your scarecrow some rigidity – think brooms and old pieces of wood. You might also need some wire and other bits and pieces to keep the body together.
Next, find some old clothes for your scarecrow. Jeans and a button up shirt are popular but be as creative as you want! Make sure you stuff the scarecrow with hay or other materials that can withstand the elements to ensure it can stand proudly in your garden. Add a bucket as a head, and a hat, and you are good to go!
4. Raise chickens in your backyard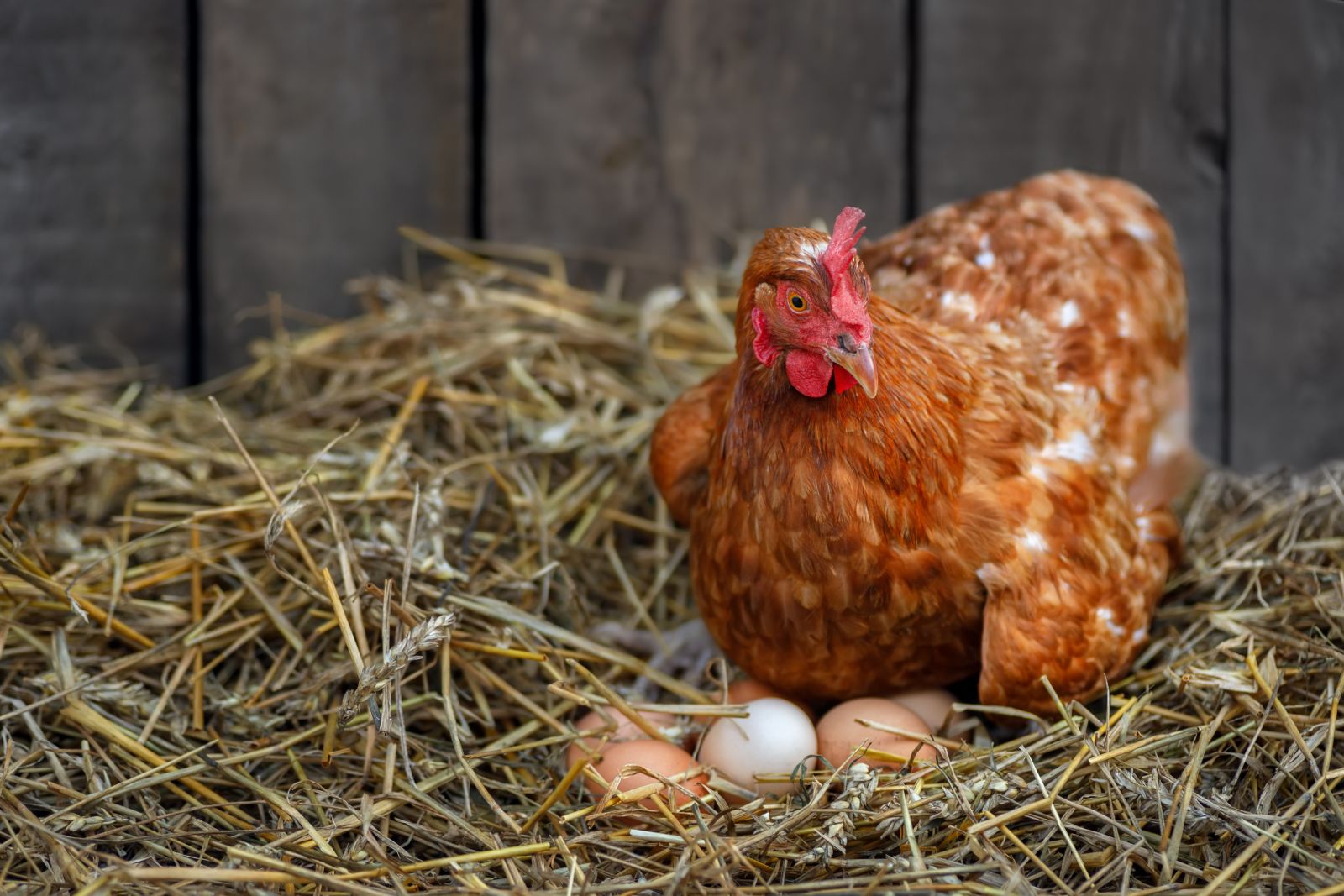 If your children are ready to take the next step in responsibility, raising chickens at home could be another activity for the kids. Chickens are great as they mean you get fresh eggs most days, but chickens can also eat a lot of your scrap organic matter, which means you are creating a more sustainable ecosystem by limiting waste.
They are also great at keeping pests at a minimum as they will generally eat many insects and bugs. This is great if you have a garden as they can help reduce pests that will get into your garden. If your backyard is fenced, it's great to let them roam around free each day to stretch their legs and peck away at those pesky insects.
Raising chickens also teaches kids responsibility by ensuring that the eggs are collected each day, their chicken coops are cleaned out and their water and food is topped up each day.
While raising chickens can be a very exciting pastime, it's important to consider hygiene practices both for yourself and your chickens. Keeping their coops clean will limit illness and disease and ensuring hands are cleaned after touching the chickens and their coops will help keep humans happy and healthy!
5. Open an outdoor kitchen and make mudpies
Many kids love to play with mud and dirt and creating a mudpie is a fun way to let them express their creativity. With just a small outdoor area required, the kids will spend hours concocting various mud creations in their outdoor kitchen.
First, take the kids on a bit of a scavenge around the backyard for sticks, leaves, flowers and rocks to decorate their creations. Make sure to have some dirt handy for their cakes, however, if you don't have any, your local hardware store will have some soil that can be relatively inexpensive to purchase.
You can use any old bakeware, containers and utensils, just like you would if you were baking a cake.
The kids will have hours of fun mixing dirt with water and decorating how they please. Not only does it help to get them outside, it also develops their sensory play and refine their motor skills. And the best bit? Absolutely no mess to clean up in your kitchen!
6. Build a Beehouse
When many people think of bees, they immediately think of honey. And while this sweet nectar is a nice byproduct of bees, they play a far larger role in our ecosystem. They are responsible for pollination which helps male and female plants reproduce. Without them, quite simply, we would fail to thrive as there is a heavy reliance on this pollination to fuel our food sources.
The more bees around, the better! So why not set up a little beehouse that bees can come to and will also help your garden thrive by promoting pollination. These houses are normally small and quite a bit different to a honey producing beehive so can be easily set up in the backyard. Your local hardware store will also likely have kits so that getting set up is easy! Most kits also come with the seeds which are perfect to plant in your raised garden bed. Once the beehouse is set up, watch as the bees come and nest; and keep an eye on your soon-to-bee thriving garden.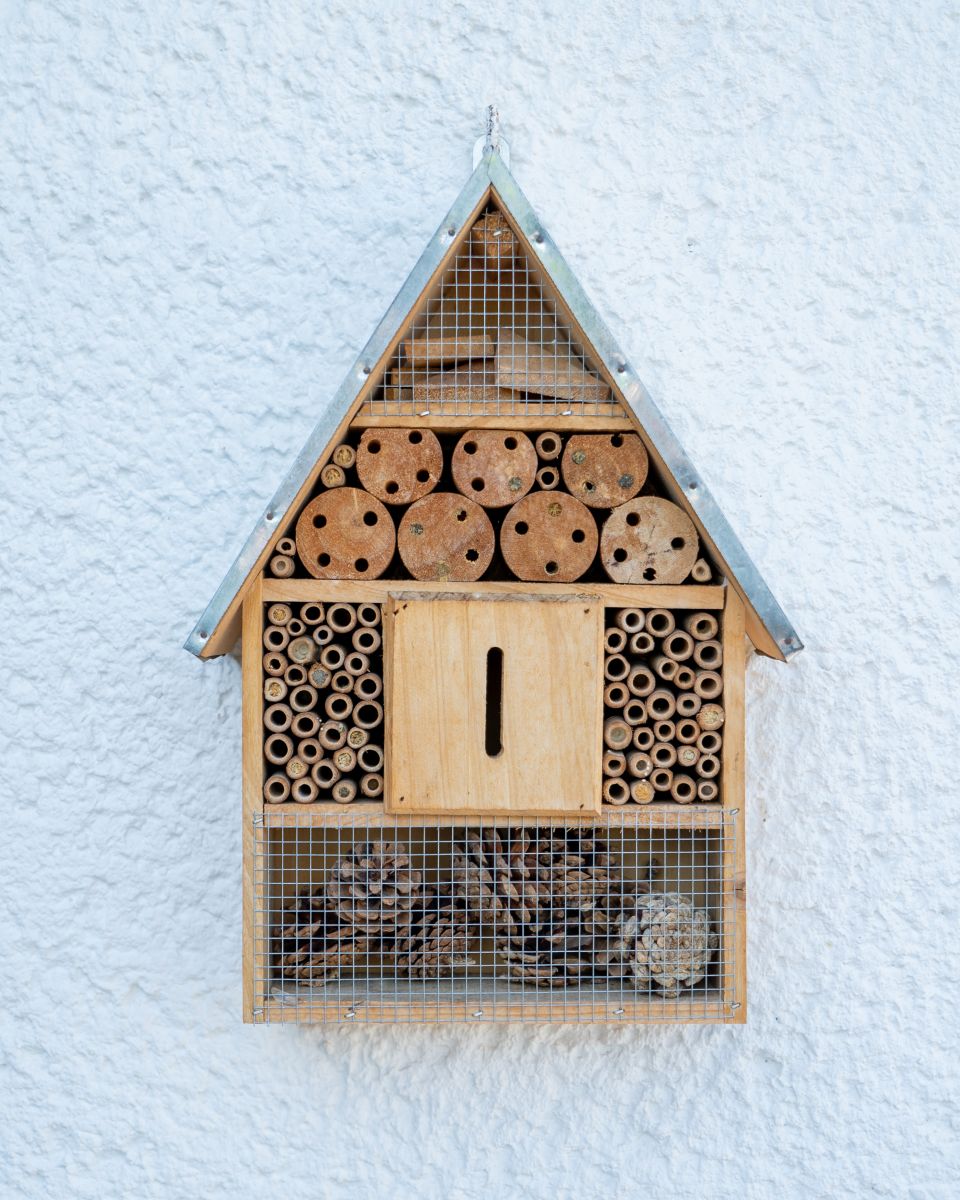 7. A friendly growing competition
A fun little activity to do with kids is seeing who can keep their plant alive the longest! By creating some healthy competition, you will help them develop and learn about responsibility and attentiveness. Making sure that the plants get adequate water and sunlight each day and pests are kept at a minimum will give them the best possible chance at thriving.
However, gardening is also a a good way to teach children that sometimes no matter how much love and attention you give a plant, there may be reasons outside of their control that means a plant's growth faulters. Weather, pests and direct sunlight may affect its ability to grow and flourish, but there are still many lessons to be learnt when a garden project does fail.
Most importantly, make sure you celebrate their success and recognise their efforts despite what the final outcome is. These lessons learnt in the garden are all important in their development and can start an appreciation and interest in nature from an early age.
8. Make wooden spoon garden markers
Getting kids involved in the whole process will help keep them engaged with gardening. Another activity you can do with them is to create name tags for each vegetable, fruit or herb you grow. You can purchase labels and stakes at your local nursery, however, creating them will be even more special for the kids.
Simply take a wooden spoon and decorate them however the kids, please! A simple idea is painting and labelling the plant onto the spoon. Place them right next to the plants so that each time they go into the garden, you know which plant is which.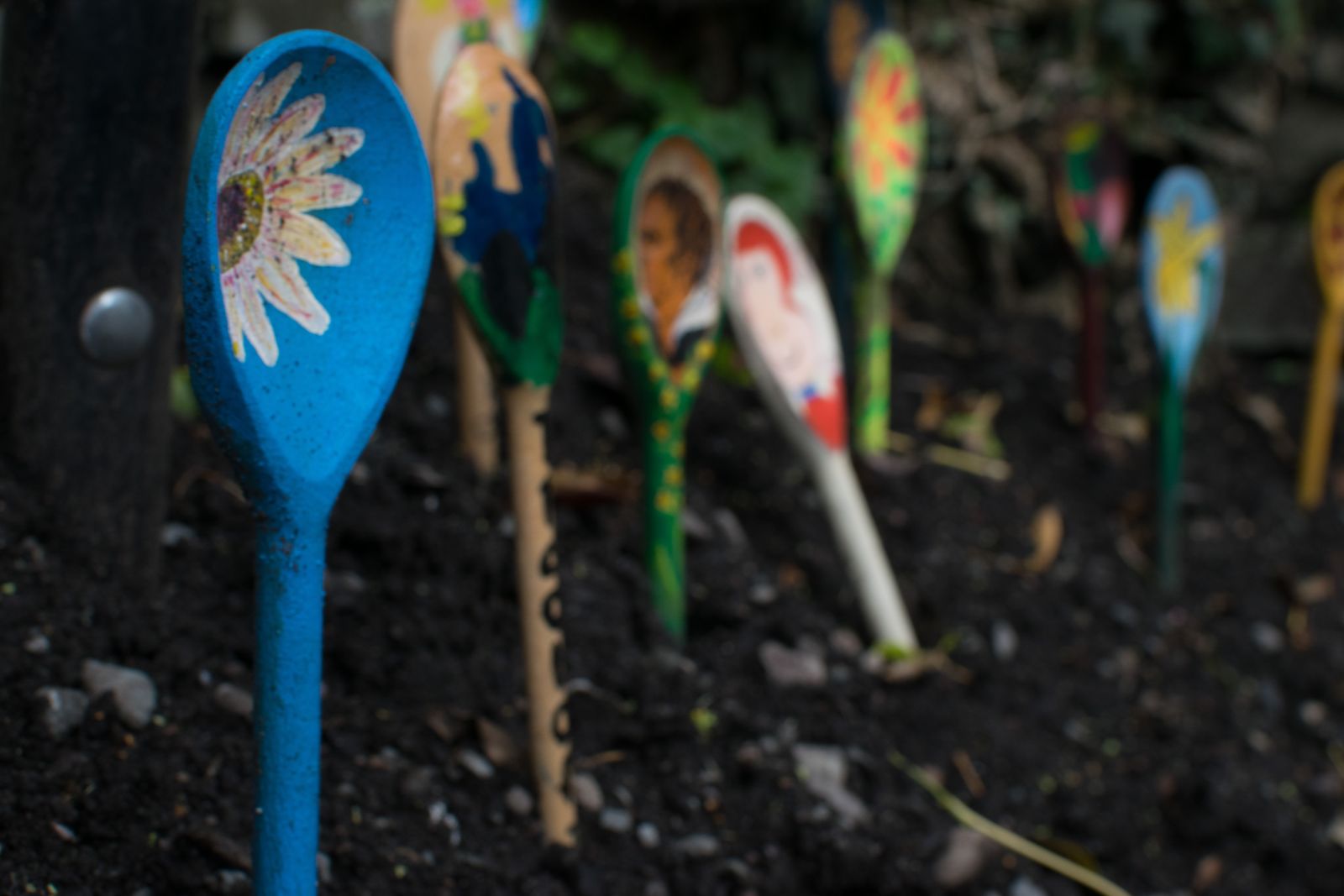 9. Regrow vegetables from roots
For a little 'magic', regrow some of the vegetables and herbs you have purchased or picked from your garden. Watch your kids eyes light up as they realise not everything needs to start from a seed, and you can very easily regrow something from what is considered waste.
Spring onions and lettuce are easy to regrow by simply placing the roots into water. The end of a celery can be placed into water and will start sprouting leaves in the middle. When you see this, you can transplant this back to soil to continue to grow.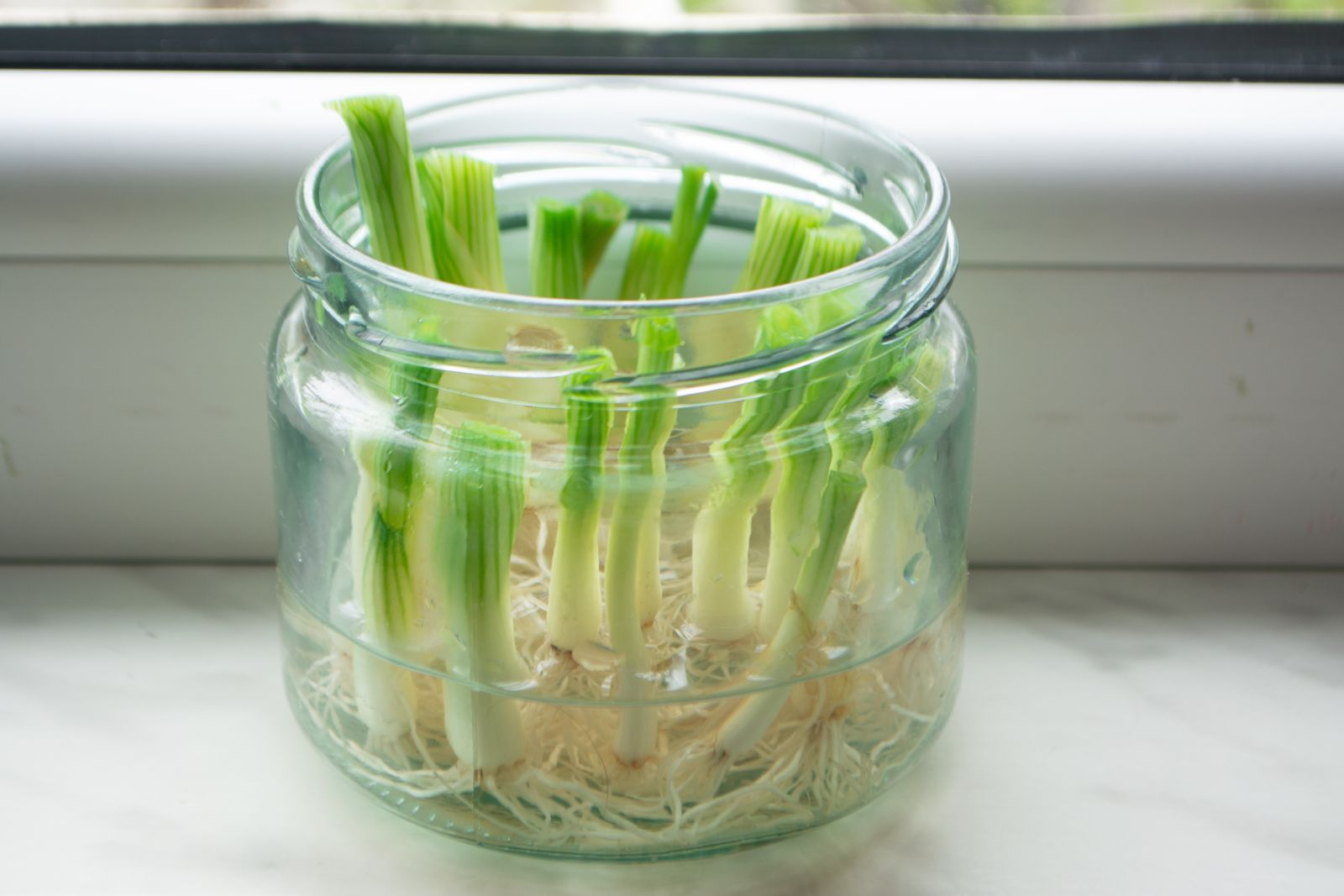 Regrowing basil and mint is also pretty easy if you have some leftover stalks. When you place them in water, they will begin to grow roots and can be replanted back into soil once roots start forming.
Not only is this fun and exciting to watch, but regrowing vegetables in this manner helps to reduce food waste and create more sustainable living, not to mention economic benefits as well!
10. Create a sensory garden
Sight, touch, taste, sound and smell are all easily captured in a garden. Engage a child's five senses and let them experience nature in all its beauty.
Sight: Grow a variety of different plants, herbs and vegetables. Nature is so beautiful and comes in all different shapes, sizes and colours. Your garden can have bright florals and contrasting deep green leaves.
Touch: Plants come in all different textures and it's a great way to teach kids. While plants can be smooth, furry, spikey, soft or hard, you can also incorporate the rocks, soil and mulch around.
Taste: This is one many kids will enjoy the most! Tasting the fruits of their labour. As we have previously mentioned, grow things that the kids love to plant!
Sound: While plants tend to make less sounds than humans and animals, the type of plants that have been planted can attract different sounds. For instance, one plant might attract lots of birds and kids can listen out for their chirps. A tall plant might make different noises on a windy day – with a little patience and imagination, there are many sounds in the garden for kids to listen out for.