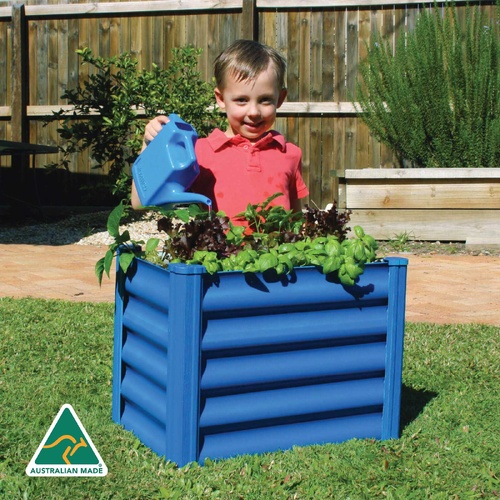 ---
Learning can be fun & delicious! Your little one can grow their own veggies in our kids' raised garden beds
Introducing your kids to farm fresh produce has never been easier with our range of kids gardening beds. The rolled safety edges of the beds make them perfectly safe for little hands aged three and up to help assemble and fill beds, under the supervision of an adult.
At 41cm high, kids can plant a range of fruits, vegetables, and herbs and tend to them as they grow. Adding these beds alongside our larger sizes allows kids to feel more involved in the gardening experience.
Getting kids into the garden early can have incredible educational benefits, helping to develop their fine motor skills as they scoop soil, plant seeds, and water the garden. Not only that, but it also helps kids to learn responsibility as they understand what is involved in maintaining a garden.
Easy plants to grow in raised garden beds for kids
Given the 55cm x 35cm x 41cm size of our kids' gardening beds (just the right height for little ones), it's best to only plant a small number of plants, to ensure they don't get too crowded as they grow.
There are a range of easy vegetables to grow that are perfect for young children to lend a hand with. Not only do they taste great, and provide lots of essential nutrients, but carrots, corn, and potatoes can be great educational produce to grow.
Both snow and snap peas are also great options for kids' raised garden beds, with the option to combine with other beds and add a joining arch. Kids can watch these plants vine across the arch as their own vegetables grow! Snow and snap peas can even be eaten straight off the vine which can create great memories for your kids.
Our kids' raised garden beds have a safe, solid construction
Made in The Organic Garden Co factory in Brisbane, Australia from galvanised Colorbond steel, our raised garden beds for kids are made to the higest standards.
The two-colour options of blue and red help to provide a fun and interactive learning environment to enrich your child's gardening experience. Plus, the eye-catching splash of colour will add to the overall aesthetic of your growing garden!
Shop raised garden beds for kids online with The Organic Garden Co! We offer flexible payment options like Afterpay.